Tech:
Video: RUSSiAN [thx!]
Audio: SiC & RUSSiAN [thx!]
Video #0 : MPEG-4 Visual at 1015.8 Kb/s
Aspect : 656 x 272 (2.412) at 25.000 fps
Audio #0 : MPEG Audio at 128 Kb/s
Infos : 2 kanaBy, 44,1 KHz
Filename: ua.17838dkfhkd
Note:
Okay, so:
First 2 minutes are in russian [no english for that i suppose, at least TS didn`t have it]. Then like 2 minutes of LiNE, 2 minutes of CAM audio, and thee rest is LiNE.
Some scenes missing, added russian audio in those places [in one scene there`s some dialogue but fortunately there are english subs hardcoded].
Rest is fine, synced pretty well.
What do they say in those first 2 minutes: it`s like story about previous movies. Friends became enemies etc, nothing important.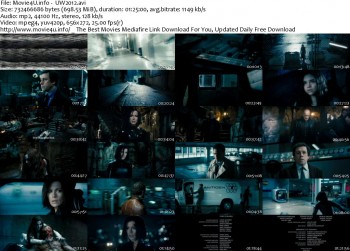 http://subscene.com/Underworld-Awakening/subtitles-91797.aspx